Arts and crafts are enjoyed by people of all backgrounds around the world. Not only will it keep you busy, but it can give you a sense of accomplishment. But, to really succeed at becoming an arts and crafts expert, you need to do your research. Here are some tips to help.
Look for deals on arts and crafts supplies. Many stores offer sales from time to time and you should check the ad or the store's website. When you do a lot of arts and crafts projects, it can add up. Instead of spending a lot of money, look for deals.
Keeping your arts and crafts supplies organized can lead to a more pleasant experience when working on projects. Invest in good storage boxes, organizers and cases especially for smaller items. Supplies like beads and glitter can easily be spilled or lost. When you bring home new supplies, immediately transfer them into storage or organizational boxes.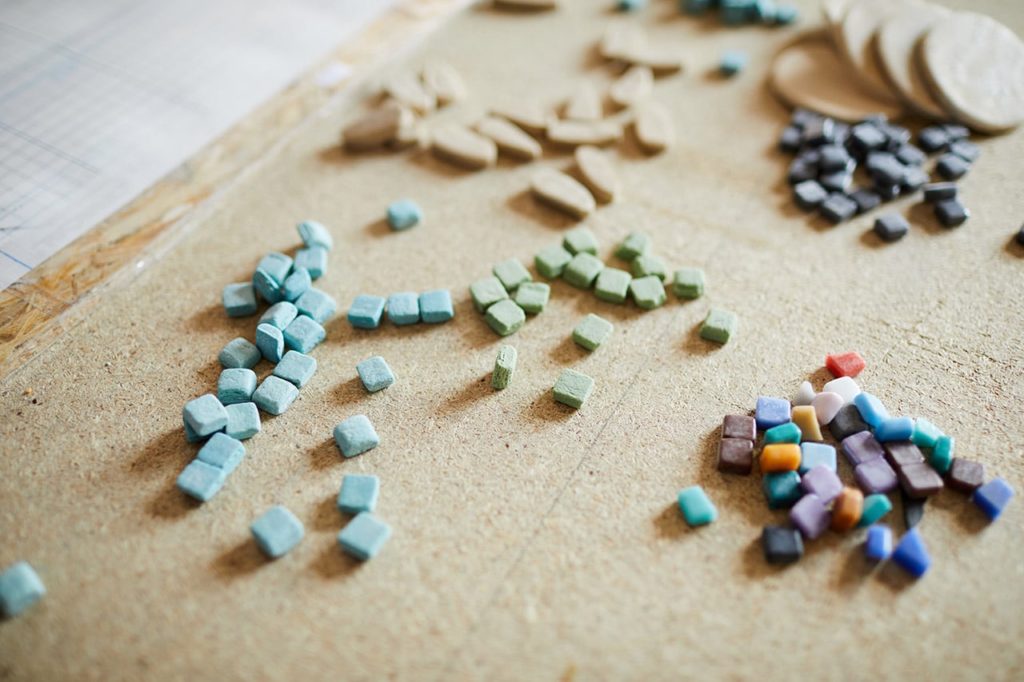 Here's a tip for working with mosaics. After you lay out your mosaic pieces and grout them, the pieces will look very cloudy. Simply spray it with a product that cleans glass and then dry it thoroughly. Mortar powder is tough to remove otherwise, and you need to make sure it is gone.
Don't forget to take care of your face when doing arts and crafts. Have a pair of safety goggles and even a filter breathing mask available. You never know when you'll hit a project step that involves things you don't to inhale or have in your eyes. Always protect yourself.
When you've reached a creative standstill with your ability to paint, start using new tools. You can paint with virtually anything, from a toothbrush to a Brillo pad, and each different object gives a new dimension to your work. Mix up the paint on the palette as usual, and let your imagination guide you!
Do you need an easy way to store your ribbons? Grab a standing paper towel holder. Simply slip each roll of ribbon on your paper towel holder for an easy organization tool. The paper towel holder allows you to remove the ribbon you need with one hand. Simply cut the amount you need and place the paper towel holder back in its original location.
Look online for crafting supplies. There are many web retailers who offer great discounts on art and craft supplies. They often offer quantity discounts if you buy in bulk. Sometimes you can even catch a sale or a promotion for free shipping. So, keep your eyes open and look for web retailers for your craft supply needs.
When you do arts and crafts projects with your children, it can be so much fun and a wonderful bonding experience. It can also be quite messy, too. To keep your child's clothes from being covered with paint, use an old, over-sized tee shirt as an art apron. You can simply launder this makeshift apron, and reuse it over and over again.
If arts and crafts are something you both enjoy and are good at, consider creating your holiday and birthday gifts instead of shopping. You can look for inspiration anywhere — from traditional themes to modern ones like anime. All through the year, you can enhance your gifts with personalization, then give them out during the holidays. Most people prefer homemade gifts to store-bought, and the money you save each year will be worth the effort.
If you have lots of paint that is all dried up, you can try adding a little water to it in order to make it usable again. Place a small amount of water in the bottle and allow it to sit for a while, then shake it and see if it has loosened things up.
If you've found that you're pretty good with arts and crafts, consider turning it into a business. You can sell your wares at all sorts of flea markets and local events. It's a lot of fun turning what you love into something that makes you some extra spending money!
To help your children make a memorable gift for the grandparents, buy a coffee mug that allows them to paint on it. The special paint pens give your kids a tool for leaving a permanent message or picture, and after you throw the mugs in the oven for a few hours, the images are there for life.
Sandpaper can help you make any object look used. If you are looking for a unique vintage look, polish your object with some sandpaper. You can create interesting textures by using different grains or not polishing the object evenly. You can even use the sandpaper after applying a coat of paint for a unique look.
If you are interested in quilting as a favored arts and crafts activity, consider perusing your local fabric store's selection of fabric fat quarters. These small pieces of colorful fabric may initially seem somewhat useless, but they can add all sorts of variety and interest to your finished products. In this way, you can enhance your quilts without spending a fortune.
Learning a new craft can give you a way to relieve stress and begin to enjoy life again. If you are new to a craft, seek out classes. Many community centers offer free classes for their members. All you have to pay for is the supplies needed for the craft.
As this article already discussed, people from all areas of life enjoy arts and crafts. After all, who does not like the feeling of doing something fun while also accomplishing something at the same time. By putting the tips above to good use, you will see why arts and crafts is so much fun.